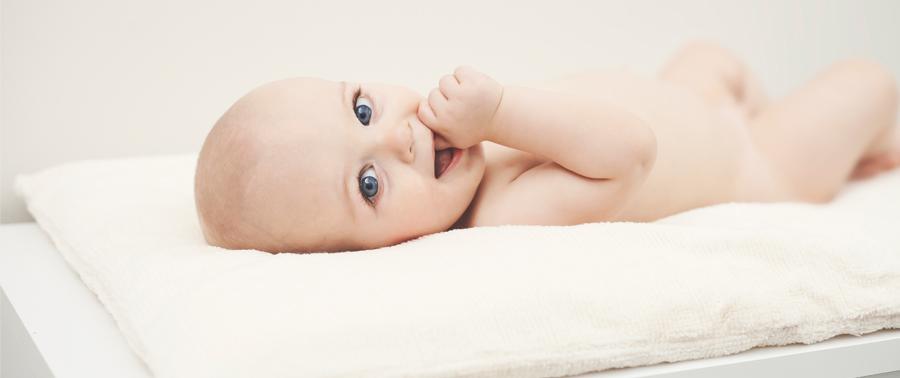 At Lyn's Label, we pride ourselves on customer service and quality. Each of our products is individually inspected to ensure they meet the highest manufacturing standard.  We use natural, 100% organic fibres that are gentle on skin.
PURE Bamboo
Lyn's Label Bamboo products are made with only the purest, high quality, 100% Organic Bamboo Jersey without added chemicals or dyes, meaning the natural properties of these fibres are retained in their purest form. If bamboo is mixed with another fibre it's properties are diluted and no longer active.
Pure Bamboo textiles are perfect for the delicate skin of newborns. Due to Bamboo's unique properties it can actually help relieve the severity of infant skin allergies such as eczema.  Research shows PURE bamboo:
is a hypo-allergenic natural fiber, it will not even irritate already sensitive skin
it will keep your baby's body temperature regulated and prevent additional itching from overheating, but also keep them warm in the colder months
has natural anti-bacterial properties which will not aggravate skin prone to infection – it naturally kills over 70% of bacteria
is a highly durable, absorbent fabric that dries quickly, meaning you can wash & dry your Lyn's Label Bamboo Swaddles and towels quickly and easily
Bamboo has no natural pests, this means it can be grown with little to no use of pesticides or herbicides.  The fibre itself is naturally round & smooth without any chemical treatment. This means that there are no sharp spurs to irritate the skin.
Our Bamboo products are 100% certified organic and have been extensively tested and approved by three world recognised industry bodies.
We DO NOT mix our bamboo with any other fibre so it's benefits are retained in their purest form.
Click here to read more about our Bamboo Processing Methods
PURE Cotton Chenille
Our 100% Cotton Chenille Portable Changing Mattresses are made from the highest quality, organic chenille and has undergone rigorous testing. We have been using 100% organic cotton chenille in our products since our company's inception in 1984. Unfortunately the quality fabric we require is no longer manufactured in Australia and we have had to source from overseas. Our priority has always been to use the highest quality chenille available to ensure ease of use, care,  product durability and the most importantly, the safety of your little one.
We DO NOT mix our cotton with any other fibre so it's benefits are retained.
Chenille differs from other fabrics, such as toweling, as short lengths of yarn, called "pile", are individually tufted, as compared with the continuous weave of toweling. The edges of these piles then stand at right angles from the yarn's core, giving chenille both its softness and its characteristic look. Chenille will look different in one direction compared to another, as the fibers catch the light differently. Chenille can appear iridescent without actually using iridescent fibers. Due to this unique weaving method, Chenille will maintain its softness and luxurious texture for much longer than other fabrics.
One of the problems with low quality chenille yarn is that the tufts can work loose which is unsafe for babies as well as creating bare fabric. Under normal use, this will not occur with our chenille as we use a heavy quality backing fabric  that 'holds' the cotton tufts tightly into place.
Bella Baby Bag
Our Bella Baby Bag is manufactured with a unique water based Polyurethane system which offers exceptional durability. To put the performance in perspective, in a typical abrasion test, our fabric is 5 times more durable than similar commercial upholstery fabrics and is supported with a market leading 7 year hydrolytic stability warranty.
Our Bella Baby Bag fabric is protected with the exclusive SilverGuard finish to provide a fresh, hygienic surface. Based on Silver Ion technology, this highly effective system controls a wide range of odours, stains and bacteria, creating a fresh environment.
Lyn's Label bags have always been constructed with high quality, world renowned YKK zippers.  The YKK Group is trusted worldwide for their impeccable production standards and thorough quality control processes.
Why did we not use leather in our Bella Baby Bag?
After a lot of research we found leather to be porous which encourages bacteria and odor, it scuffs and marks easily, it can also be quite heavy, particularly when used in larger nappy bags.  Our faux leather in fact, inhibits odor and bacteria, it is waterproof, scuff and stain free – all the qualities a mother desires when looking for the ideal Parenting Bag.
What is SilverGuard?
SilverGuard is a natural and environmentally friendly Silver Ion engineered into the fabric surface. Silver is natural and it has a natural bacteria fighting qualities and inhibits odours and staining.
How does it work?
SilverGuard is highly effective by destroying microorganisms through multiple paths. SilverGuard attacks the bacteria in a technical process and is slowly released from its matrix in the presence of moisture, typically after cleaning. The end result is an antibacterial protection for the life of the product.
Is SilverGuard reliable?
SilverGuard has been proven to be effective through its antimicrobial properties. It's safe and efficient process of working through years of service ensures odours will diminish and prevents the promotion of bacteria and mould.