We are super excited to announce that our Bella Baby Bag won the Bronze Award in this years 2016 My Child Product Excellence Awards for Favourite Baby Bag! – How exciting!!!
We are also proud to announce that the Lyn's Label Olivia PURE Bamboo Jersey Swaddle from our Organic Mother and Baby Range was a finalist.
Both these products are designed and hand-made by Mum and I, the full range of newborn and mummy essentials provides parents with products that are safe, ethical, practical and stylish.
The Bella Baby Bag is one of kind – Reversible, Odour and Scuff Free AND it cleverly converts to a portable changing mat.
Our Organic Baby Range uses only the PUREST Bamboo Jersey, free of dyes and harsh chemicals.
Voted by readers, the My Child Excellence Awards are in their fifth year and showcase the leading brands catering to mothers-to-be, new mums, babies and young children. Voting for the 2016 awards closed 15 May 2016.
Thank you for your support!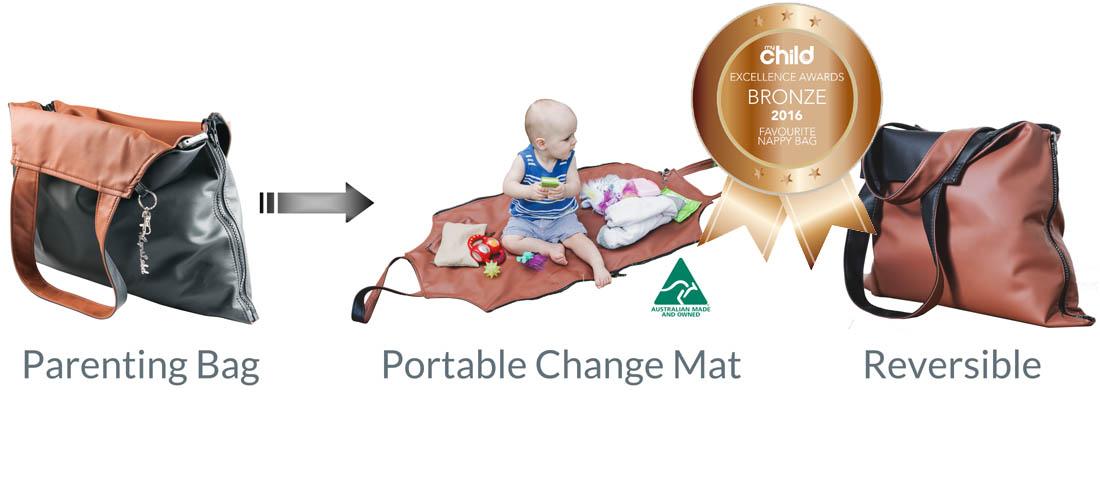 Innovation Pitchfest
Our Bella Baby Bag was awarded a place in the Top 8 for the Innovation Pitchfest.
The Innovation Pitchfest is a unique 'world first' event that will showcase Australian Talent and create opportunities for Australian Businesses. Reed Exhibitions and Magnolia Solutions have teamed up with renowned German retailer, Tchibo to bring Australian innovative design to the forefront of the community and take it global. An unprecedented opportunity any small business would only dream of.
"As a Mum I wanted a bag that could go everywhere, carry all my baby needs and look great on me as well as my husband.  A bag that didn't scuff or mark, that didn't get smelly after a leaking bottle or spilt baby food.  Then, on top of all that, I wanted a safe and hygienic place to change my babies' nappy when out and about without having to carry a separate changing mat.  With such a long list of criteria there simply was nothing on the market, we couldn't find it, so we designed it."
The Final Top 20 designers and businesses 'pitched' the features and benefits of their product in a series of Pitch rounds to our expert judging panel until one business is awarded the winner.  The Bella Baby Bag was selected in Top 8 and only just missed out on a top 3 placing.
To find out more click here
National AusMumpreneur Awards 2015
Marnie Hollis of Lyn's Label has been nominated for the 2015 St George Banking Group AusMumpreneur Awards.
The AusMumpreneur Awards presented by The AusMumpreneur Network celebrate and recognize Australian Mums in business achieving outstanding success in areas such as business excellence, product development, customer service and digital innovation. The awards are designed to recognize the growing number of women who successfully balance motherhood and business in a way that suits their life and family.
I am mum to my beautiful daughter Charlotte and partner in business with my own Mum, Lyn.  Following the birth of Charlotte, I decided to re-launch the business my mother created 30 years earlier. With a vision to revolutionize the baby products industry and a strong belief that parents should not have to compromise Quality and Versatility for Style and Luxury, Lyn's Label now exhibits a unique collection of classic, innovative designs with a hand-made touch.
It was my mother that inspired me to restart Lyn's Label. I remember her working long hours in her business but she always put our family first. It is her example as a successful mother, wife and business women that has inspired me to follow my dream of restarting the business she founded so many years ago.
There are many benefits to balancing business and motherhood as Marnie explains, "I can be a great Mother, daughter and friend, all while making a positive contribution. I am now able to spend more time with Charlotte and I love working with Mum. I have greater control over my future and am creating a wonderful legacy for Charlotte."